Since 1947, Kashmir has been the scene of territorial conflict primarily between neighbouring countries Pakistan and India. This has resulted in thousands of mothers becoming widows, faced with the task of supporting their families on their own without the support of their husband.
What is most heartbreaking of all is that many of these women do not know for certain whether their husbands are still alive or not, having been separated as a result of the conflict. With no closure, harbouring onto the small glimmer of hope that their husband, the father of their children, is still out there somewhere is a heavy burden to carry – especially in such desperate circumstances.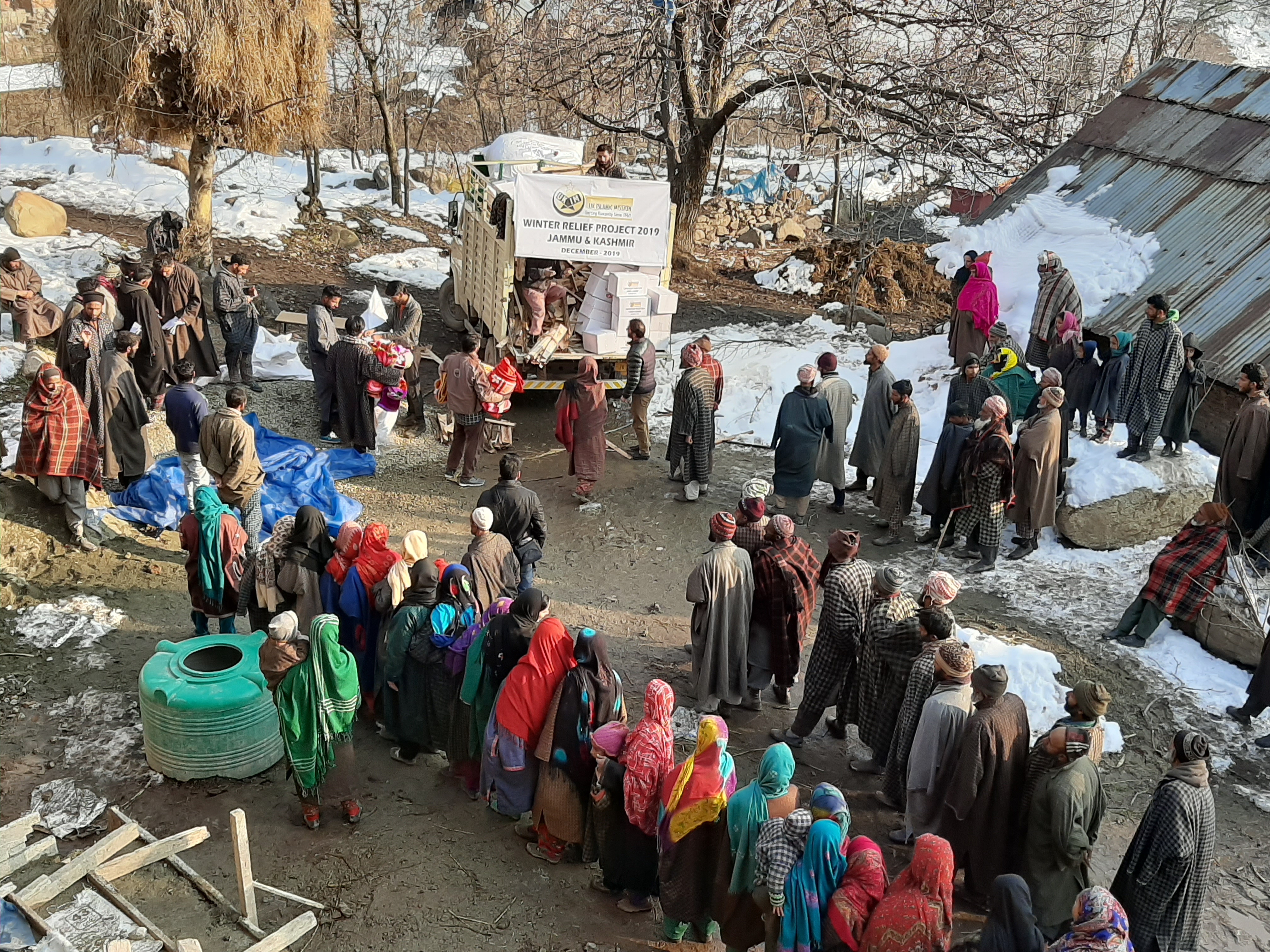 How to Help Kashmir Half-Widows
These women are known as 'half-widows' because the disappearance of their husband means they cannot be certain of their fate. Not only does this mean they are unable to mourn or bury their husband, finding the closure they seek, they are also unable to remarry. This heartbreak, however, must be put to one side for the health of their children, whom they are responsible for supporting – often through low-paid manual labour that is barely enough to feed and clothe the family.
This desperation leaves these women at great risk of exploitation, willing to do whatever it takes to look after their children. It is not uncommon for a half-widow to go without food and water in favour of ensuring her children do not go without. As noble as this is, this leaves her with very little energy ahead of a long working day, often leaving the sole provider of the family in ill health.
UK Islamic Mission refuses to stand by and watch on as mothers struggle to look after their family, driving themselves into an early grave by doing so. Having lost their father, these children need their mother now more than ever before – our Livelihood Programme ensures that half-widows and their families do not have to go without.
Through our Livelihood for Widows programme, UK Islamic Mission helps widows to find sustainable income to support their families, as well as working reasonable hours whilst doing so. This is to ensure that not only do these families have the resources they need to buy food and clothes, but also allows the mother to spend the time nurturing her children.
Supporting Kashmir Orphans Through Charity
While we are actively working to safeguard all mothers and their families who are struggling from years of conflict in the area, unfortunately, many lose their battle leaving behind their sons and daughters. Over 20,000 orphan children have sought shelter in Kashmir, but it is thought that the true number of orphans is considerably higher than this with so many being unregistered, effectively being invisible to the government. The true scale of this emergency simply is not known.
This means that thousands of young children are receiving no support, living in places with poor hygiene and high levels of crime. Needless to say, life is far from safe for orphans who are either forced to turn to petty crime to support themselves, take on low-paid jobs with employers who will exploit them or, in many cases, lose their lives with no one to look after them or, indeed, remember them.
UK Islamic Mission is doing everything we can to bring orphan children in from the street through our Orphan Sponsorship programme. Through this, the charity has been providing Kashmir orphans shelter, food, clean water, clothing, healthcare and education to help give them a chance in life. On top of this, we also provide support for children who have suffered the trauma of losing their parents, many of which will have images the likes no one should have to witness etched in their memory.
How You Can Help Kashmir
You can help families struggling in Kashmir by giving generously to UK Islamic Mission. Whatever you can give will go a long way to making a real difference to those living in the most desperate of circumstances. Just some of the ways you can support our charity efforts in Kashmir include:
£50 – Pays for a baby food pack, with supplies lasting for one month
£150 – Provides an emergency survival pack, complete with a family food pack, hygiene kit and baby food
£200 – Buys emergency medical supplies for families and medical facilities
£250 – Supports our Livelihood for Widows programme, which provides sewing machines, skill courses and micro-finance to help mothers support their families
£360 or £30pm – Supports our Sponsor an Orphan programme, which provides shelter, education, healthcare, clothing, food and support
£1200 or £100pm – Supports our Adopt a Widowed Family programme, which will support a widow and her children by providing shelter, food and clothing for a year
Other ways in which you can give to UK Islamic Mission to support our efforts in Kashmir include giving your zakat, Qurbani and Ramadan obligatory donations to us. These funds can be included to support our efforts in the country, helping to connect widows and children with food, clothing and shelter.
Winter in Kashmir
The poverty and desperation that families live through all year round only become harder during the winter, which is when those living rough are most at risk of disease, such as pneumonia (as well as COVID-19, due to the current global situation). No matter what time of year it is, sleeping on the street without any form of shelter is dangerous but during the winter, with no means of keeping oneself warm, you are at the mercy of the weather.
UK Islamic Mission recognises the additional struggles that come with the winter in Kashmir, as well as other developing areas such as India, Pakistan, Gaza, Albania, Bangladesh and Lebanon, which is why we ask that you consider giving to our annual Winter Appeal. Some of the ways you can do this include:
£30 – Support our Keep a Child Warm appeal by providing warm clothes, gloves and shoes for the winter
£100 – Buy a winter family pack, complete with blankets, warm clothing, shoes, mattress and a month's supply of food
£200 – Provides a winter survival pack, which includes an electric/gas heater and fuel to keep a family warm, thermal blankets, mattress, sleeping bags and a month's supply of food
£500 – This will help to support five families this winter through providing items such as blankets, warm clothing, shoes, mattresses and a supply of food for a month
Whatever you can afford to give, we at UK Islamic Mission will be hugely grateful for your support. You can choose to give through any of our appeals page or via our donations page, where you can choose where your kind donation will be given.