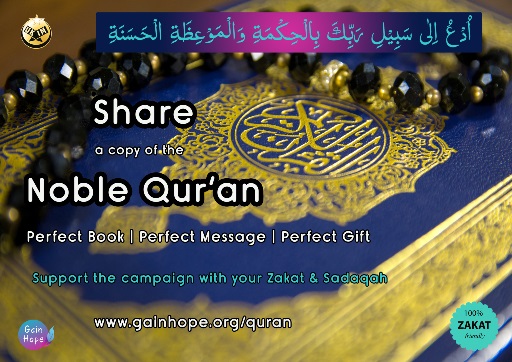 Invite (all) to the Way of thy Lord with wisdom and beautiful preaching; [The Noble Qur'an 16:125]
The time has arrived where hundreds of people are now requesting copies of the Nobel Qur'an every month, Alhamdolillah. There are many reasons why people are asking for a copy, but mainly because they are seeking the Truth. Some comments that we have received include:
I am protestant Christian. I have Muslim friends and interested in converting… (A.K.)

I'm C of E. I'm looking to change my religion (C.E.)

I don't currently have a religion but I am interested in learning about the real Muslim culture away from all the rubbish you see on TV… (E.A.)

I am Christian but want to educate myself and others about Islam. (H.D.)

I was brought up as a Christian, but I want to change my religion to Muslim. I need all the help and support I can get… (J.A.)
To meet this unprecedented and welcome development, we need your support to assist with the printing and postage of the Noble Qur'an.
We have set an initial target of £10,000 to meet the anticipated demand as the interest in Islam and the Deen of ALLAH swt grows. We are asking you to donate just £5 per month or make one-off donation to help champion this beautiful and blessed cause. Simply click on the link below to donate your Zakat and Sadaqah, and change your and others life for the better, Insha-ALLAH: